Tonight I'm going Patty McFatty
That's right! I'm going to G&D´s with my girls tonight and we are all having sundaes'. Oh sins, oh sins – we will all burn in hell for this! But I'm sure Jesus would understand. I bet he would have liked to have a sundae as well during his lifetime (as his last supper perhaps. I know I would have liked that, but as a desert after eating my fathers food), but sadly freezers didn't exist 2000 years ago. If is does any difference I raised money for charity today? "plus, minus, zero" as we say it back in Sweden! No? Yes? No? Fair enough! If we are not forgiven for the sins we are committing tonight, I'm sure it's because of jealousy. BUT WHO'S SINFUL THEN? Aha, gotcha J! Just kidding with you guys - I love Jesus!
Okay, I'm going to stop before any of you think I'm serious! (Although, I really do love Jesus, great man, and... I am going to G&D's with my friends) Ciao!



I don't know why, but I think of Nangijala when I see this picture!
"För det vidare"
I know at least 80 percent of you readers out there feel a bit lost by just looking at my headline. But it's Swedish for "Pass it forward", a campaign that celebrates teachers all over the country.
This campaign really moves me, because teachers are one of the most powerful elements for knowledge, development, welfare, peace. Really! We are trying to turn things around back in Sweden. We want more teachers. We don't care if you've got a lifetime of experience or if you just graduated uni yesterday as long as you're passionate, wise and loving about teaching. We want teachers who have got enough knowledge to be able to contribute to the development not only nationally, but globally. For what would the world be without our precious teachers? Nothing! I'm pretty sure mankind would have been distinct, haha! Sure, now we have an elite authority that "runs the important errands and deals with the world political issues"… but really it is the teachers we have to thank for that! If it wouldn't have been for our teachers we wouldn't have had these incredible intellectual people working within these different fields, we wouldn't have been on a pursuit of our dreams/happiness - we wouldn't have been anything without them.
So please take your time to thank your teachers for giving you homework, thank them for making the lesson pass one minute past the finishing time, thank them being there for you – thank them for choosing to become a teacher!

And teachers - With great power comes great responsibility! (And yes, I just used a quote from Spider Man)  

And that's how B C's it, peace! ♥



Education is the main key for world peace, just saying...
Fright Night
I just watched Fright Night, and may oh my – I l o v e d every minute of it! I couldn't stop laughing, but I am going to be honest with you guys and tell you that I actually fell of my bed at one point and it was not because I was laughing but because I got scared. Luckily I didn't break my hips (haha, I sound eighty)!
My new crush is by far Christopher Mintz-Plasse! I've loved that kid since Superbad. Haha, he has always got these outrageously funny characters. What can I say? My pyjamas doesn't say "I <3 nerds" for nothing. Okay, now I'm just kidding… Or not really! It actually says that on my pyjamas! Let's just forget that I ever wrote this post.  



Guys you just love!
We were born to die
Give me some Pud Thai - NOW!
Since I'm a bit hungry now I thought I could show you guys what I had for dinner/lunch (dunch?) this weekend.  



Lamb Mud Saman & Coconut rise!


A whole lot of Thai food from the buffet!
Head, Shoulder, Knees and Toes
A summery of my weekend
Well, to start with the weather has been amazing. Spring is here again and Oxford is practically in bloom. I love it! The sun and the flowers made poor little me very, very happy! And yes, I'm poor… I have got no money left for the rest of the month (and I have already stolen too much money from my March account)
Since I'm so fed up with English food, I had to eat some Thai food, two days in a row, with my wonderful roommate. My body has been living on fabric fried food for too long and I haven't eaten proper meat for way to long, so I think it was time for me to have some. My body was starting to fail. No really, I felt weak! But now I'm better (except from the bruises that never seems to stop appearing all over my body… and the nose bleed?  Haha, don't worry, I'm not a hooligan/street fighter – it's just bruises)   
Okay, that was quite a lot of information for a weekend? See you!


Last night in Oxford with Marlene
I refuse to say just "Last night with Marlene", because it's not! I will see my beautiful friend around, whether it's in London, Stockholm, Brussels, or somewhere in भारत गणराज्य (as in India), where ever the wind might take us you may say!
Anyway, I spent last evening with my dear friends Julie, Anne and Marlene. We started our evening with some
(dissappointing)
cocktails at All Bar One
(Thank you, Anne for making us try new things we don't know anything about, haha).
Then we moved on to a wonderful Indian restaurant, which you can find in a narrow little alley by Cornmarket Street just next to a beautiful College and a church
(both on of many here in Oxford).
The atmosphare was very simple, not that big of a deal, but I really didn't mind since the food was fabolusely delicious. It was quite a culinary trip to be honest, haha!
Don't try the Mangotini. It may sound posh and exquisite, but really it's not... At all! "SINK IT!" (Vaska) as we say it back in Sweden (meaning that you throw your drink in the sink to show how loaded you are, but in my case it was just to make a statement: "that was a disgusting drink") To be totally honest, we did it the student way, the poor hobo student way, without making a statement what so ever - we drank all of it, bottoms up! Not a single drop was wasted. You can't really blame us... It wouldn't have been fair to our wallets to throw it all away. It would be like throwing away money we haven't got! Or, you can just NOT have a cocktail and save you the misery, right?
But this was a special occasion, so we had to act all posh and force ourselves to drink our cocktails. Luckily we had until 20.30 to do that, since our recervation at the Indian restaurant wasn't until then.


We had plenty of time to sip our drinks while making disgusted facial expressions as a result of the bitter taste. When we realised that it was time for us to get going we just throwed our fists on the table and let the liquid pour down our throats, as you let cough medicine run down your throat.

Absinthe and Cocaine
Last Wednesday I went out with Julie, Anne & Marlene to have some dinner at La Cucina. The food was amazing and got us more than ready to meet up the rest of the gang to kick off the Good Bye Marlene Pub Crawl at Café Terifa. We were about 20 party animals rocking the streets of Oxford, haha!

Before I forget, I would just like to thank everyone for an amazing and unforgettable night! Here are some pictures, enjoy! ♥



"Calzone without ham and with extra mozzarella, please!"


At Terifa!


And of course Begolile the Crocodile was at the party! He IS the party! Haha, we also saw Robert Pattinson's doppelganger at the bar and even he paid attention to our sweet little crocodile... Ok, I just think he freaked out when he saw me bring out a crocodile out of my purse by the bar disk, because apperently a few people from the gang saw him look at me while say "Crocodile". Well, hey! If you can't handle Begolile you better find somewhere else to hang, haha!


"Who made your cocktail?" "Not the ugly bartender!" "You could have just said the hot bartender, Lisa!" And by the way, the "hot" bartender is the one you can see in the background, though I would have liked to have seen Justin Bobby (the guy from the hills? No? The reality show containing the most drama in the world?)!


Drunk Danish gal and everyone's favourite Dutch (pervert)


The main attraction of the night, my lovely friend Marlene, at the phone!


Good times at Terifa! Well, we had to move on at some point. We kind of ended up at the Purple Turtle, where we had the magnificent college shots.


Lisa was as made for this place - Look at the colour of her clothes and the walls! She was born with it, haha!


We had one of the house shots of Hogwarts, namely Slytherin, which was containing Absinthe and Apple Sourz (But they were out of Apple so we had some of the Strawberry Sourz, thereby the red colour). Goodness, I had never had Absinth before and that s*** almost burned my face off! I bet my dad is saying "Good! I hope it hurt for a long time!" while reading this, haha!


And so it was time for us to say hello to death... Liquid Cocaine they call it! The name sounds dangerous, the shot looks dangerous, but it really tastes like Christmas. Well, it sure is Christmas to DIE for, litterally meaning!


For those of you who took my rubric seriously, I would just like to say that these shots did NOT contain any liquid Cocaine what so ever. It's just cinnamon spirits topped with Jäger...  


I took a shot for you that night Marlene, literally! We said that we would do the Absinthe and Liquid Cocain round at Purple Turtle before your jurney in Oxford was over, and so we did! JAMB, I love you guys! ♥
The Brit Awards
Right now I'm sitting in my room with Pimwa and singing while watching The Brit Awards. Oh, and she l o v e s One Direction, she is obsessed with them! I can't believe it… They are twelve years old! Actually I've never heard of them before (so what do I know, right?), I just saw them on the tellie and they look… twelve! But then again, I thought Justin Bieber was twelve until last year when I finally found out that he was… How old is he? Haha, I'm not good at this at all. I thought he was twelve for three years, and when I finally admitted it it sounded quite weird to not turn thirteen after three years (unless you're some kind of a vampire. Then it's just natural)
Anyway, I guess it's brilliant to look young in the showbiz, so don't take it the wrong way guys! Now when we have sorted that out, I'd like to apologize to my roommate for calling her a paedophile. It's okay to fancy the not-twelve-year-olds from One Direction (since they are not twelve).   
What I need right now...
... Is something sweet (since it is Patty McFatty day back in Sweden… And no this is not a joke! I am 100 percent dead serious about this) and a little bit of this…


Photo shoot & Cosmo's
Today after school I had my photo shoot with David. I'll show you the pictures when they are done! It was quite funny because he had no idea that he would be half naked, have ketchup all over his face and have the spiky crown from hell on his head while being surrounded by a bunch of girls. Haha, awkward or paradise – you tell me!
Afterwards I went to Café Terifa with my three little helpers (Anne, Julie & Marlene) to have some Cosmopolitan's and enjoy the night.



My own Dita von Teese!


"The dancing boat" - Julie

Yes, we are the girls from Sex and The City... Why?
Yesterday I went to London for a little bit of adventuring with my friends. Firstly we went to The National Portrait Gallery to see the exhibition of Lucian Freud, but to our disappointment the tickets were already sold out… But there was no need for us to feel sorry about ourselves so... We went to buy us some take away velvet cupcakes from our favourite cupcake shop instead. Then we went to Paul's to buy me my first macaron. I choose pistachio for your information! When we had gotten everything we needed we went to Starbucks to have something hot to drink. "A grande hot soy milk with caramel, please!"
After our little break we took our umbrellas and walked out in the rain to walk down the streets of London. Later on we headed to the Adventure Bar for some Happy Hour cocktails and a whole lot of fun. At eight it was time for us to head to Hi Sushi, the reason why we went to London in the first place. I'm sorry, but I can't tell you how much fun we had there! All I can say is that we were shouting "Kinapinnar" (chop sticks in Swedish) and laughing for our lives. And oh, how much food we ate! 


Make them go away!
I think I'm going to be sick! I just saw a big fat black hairy spider climbing up the wall in the bathroom. My body is shaking because of fear and it feels like my entire body is covered of spiders crawling in under my skin. I want to get out of these clothes, I want to shave off my hair, I want to make a skin transplantation.
If I would have to choose one living creature to eliminate from this earth it would be spiders. I would attack them, I would destroy them, I would make them vanish from this earth, planet and space, I would make them wish they were never born – I would go all Adolf Hitler on them! Read my lips: I HATE spiders!
Judas Juda-a-a
I thought I would have a photo shoot after school today, but the damn electricity went off and I had to reschedule my session, since I need light to be able to work with my model.  
At least I was a bit reproductive and went out to search for knots for my recreation of the crown that Jesus wore before he was crucified. Damn, I don't know if it was mother natures way of punishing me, but I got a lot of cuts on my hands on my hunt and while working on this crown… At least I'm not a Judas!


The Woman In Black and Cocktails = Perfection
Tonight I have been celebrating Julie's birthday with my sweethearts Anne and Marlene. Before going out, we gave Julie her birthday presents and a big Ben's Cookie birthday cake. (I know, that's pretty awesome) Later on we went to the cinema to watch The Woman in Black and to eat like a bunch of Patty McFatties, haha! The film was great. It was so good I (and so many other people) couldn't help myself from screaming at some points, and apparently I have a good horror movie scream since my voice cuts itself in a million pieces after reaching the highest note possible, haha!
Anyway, after the movies we went to All Bar One to have a birthday cocktail before heading back home again.



A new favourite perhaps? Well, both I and Marlene say "Me likie" to this cucumber lovie!
Julie's B-day celebration
Last night the girls and I went out to celebrate my dear sweet friend Julie's 21st birthday (24th to be honest, but shhh… that's a secret!) in advance since today is her birthday.
We started the night at La Cucina, where we ate Italian with Chardonnay. Suddenly we the restaurant puts on the "Happy Birthday"-song and the staff comes out with cake's and candles, while everybody in the restaurant starts singing. Haha, I wish I had a picture of Julie's face when this happened! "Girls, you better pray to god that that is not for me. I'll kill you!!" Well, luckily it was someone else's birthday, so the cake wasn't for her after all. Haha, but when it became midnight the same thing happened to her! "BAM, Gotcha!"
After the dinner, we went to The Half Moon to meet up some other friends, and then we went to The Cape of Good Hope, where we sat around the round table like the brave knights that we are, while listening to live performances. It was a great night!  



A birthday kiss from me to Julie! Happy Birthday sweetie!
Sharbat Gula
I recently got back from a quick photo shoot with Marlene and Julie, where I got to model for a recreation of this picture. It all took less then five minutes really, but it was five hilarious minutes. It's a bit of a challenge to look like an 11 year old that looks like a 27 year old, when you're 18 and tired as hell from "sleeping" for less then three hours on a very uncomfortable couch. Life is hard as a model, what can I say? Hahaha!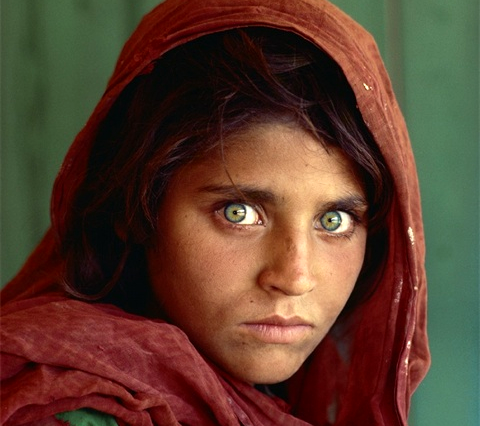 My Blue Valentine Plan
Today after school I went to G&D's with Giulia, Federica and Marisel. We ate Brownie Sundae to kick start our celebration of Valentine's Day.
Later on I met Marlene in the centre to buy some necessities for our upcoming photo shoot, and of course we also made some grocery shopping for tonight… Which reminds me of something. Jesus Christ, I need to meet up the girls soon to go to Anne's place. We're going to have a little sleep over, cook some nice food, watch movies and so on. I can't wait!


I've found Jesus... or Kanye...
I could seriously murder a cup of hot chocolate right now! They are handing out free hot drinks in the student launge, so I guess I'll be heading over there with Fede after this lesson. Oops, I'm being naughty during the lesson, haha!

Oh, by the way I have found my model for this week's challenge. He just doesn't know it yet! I'm thinking of doing a piece of David Lachapelle's illustration of Jesus (aka Kanye West).


Hi, I'm Cupid - You're Stupid!
Happy Valentine's Day!
Look what my sweetest (and only) roommate gave me for Valentine's Day! I can't believe how lucky I am to have her as my roomie. She's so wonderful and cute - she's my sister!
I hope you all get a wonderful Valentine's Day! Mine just started great!


La-la-la-love!
I've never thought of Valentine's Day as a day to rub in the face of all the single ones'. I've always thought of the day as a slightly commercial day, which also aims to spread a little love in the air. It doesn't matter if you're in a relationship or not, this day is meant to be shared with someone who you love, either if it's your lover, family, friend or pet. It can even be a teddy bear or a plant if you wish! We all have someone/something we love, don't we? And if we don't I suggest we give free hugs to those who doesn't love in the City! Or why not spend your time doing something that you love?
This day doesn't belong to the couples. Now, please let us celebrate Valentine's with those we love and care about. I will spend my Valentine's at Anne's house with friends I love and care about.
Please tell me what you're up to this Valentine's Day!
Love
Begonia


Be mine?
I'm in serious need of models for my new photography project! What shall I do? I have absolutely no idea. I see people on the street that I know will suit just perfect for my projects, but the question is if I dare to ask them to assist me as models? What if they think I'm some kind of a pedo freak? Well, this can't go on any longer! I'm going to go out there and next time I see a perfect model I will shout "OY YOU!" and grab my model. Haha, not really, but you get the idea, yes?  


This is to you, Anne!
I just wanted to dedicate this post to my dear sweet friend Anne, who just got accepted to Nottingham University! I raise my glass for you again, cheers honey and good luck with everything.



This is how we do it the poor student way! A cheap bottle of wine (or actually it was pretty expensive. I think Anne said it was for £ 11 or something, but it was for sale so...) and white plastic cups. Go girls!
Jimmi Choo
For me yesterday was the first time I ever stepped a foot inside a Jimmi Choo store. The closest I had ever gotten to Jimmi Choo was the colaboration between Jimmi Choo and H&M, haha! But yesterday I actually bought myself a pair of Jimmi Choos'. I must admit that I couldn't stop thinking about Carrey Bradshaw from SATC during the whole time in that shop.
I'm really glad that I bought a new pair of shoes. I was afraid that my dad would hunt me down and kill me if I didn't buy shoes soon. The last thing he told me before I got on the plane back to England was "Begonia, buy yourself a new pair of shoes. What ever it is that you are wearing, it looks like you stole them from a homeless person. They are practically falling of your feet as we are speaking… Honey, if you don't buy shoes as soon as you land in London, there will be serious consequences."  "Sure, dad", I said. That was easier said than done! Well, now it's done anyway!



So here they are!! My new sweet Jimmi Choo's! What do you think? Are they not just perfect? I love them...



PSYCHE!!! Hahaha, these are the shoes that I traded with the homeless guy (according to my dad). Haha, now this is seeing my shoes from a whole new perspective! I never thought my shoes looked that bad! I mean, sure they had been through a lot but I didn't think that they looked like they had belonged to a world war II veteran.



Wait for it...



Tadaaa!


Say what?!
I had so much fun yesterday that I forgot what day it was. For all of you guys who are not from Scandinavia, I would be delighted to tell you that it was "Semeldagen" or "The Semel Day" as we say it in Swenglish. It is a day when we eat patisseries such as this:



It's basically a bun stuffed with a little almond paste, topped with whipped cream and then with a little piece of bread on top of it all, garnished with icing sugar.  

My question to you guys is: Where the hell is my semla?!
The Boat That Rocked
Tonight I went to Café Terifa with Julie and Marlene to hang out and watch "The boat that rocked". Terifa offers the most perfect film nights on Sunday's. I love it! You can either choose to sit with friends and watch a movie while drinking tea or cocktails among cushions and candles on one of the sides of the pub, or not watch a movie and do the same thing in a slightly brighter environment on the other side of the pub. Haha!
Anyway, this was the first time I ever saw this film… And I absolutely loved it! I love rock'n'roll and comedy, so for me this movie was just perfect!


Bicester Village
Today I went to Bicester Village (aka Brat Village) with my dear roommate and some friends. For those of you who don't know, Bicester Village is a little town where you only can find the most expensive clothing in the world such as Prada, D&G, Versace, Gucci, Dior, Robert Cavalli, Jimmi Choo, Polo Ralph Lauren to name a few brands. It's almost like once upon a time there was an explosion of mass destruction brands, leaving all of these shops of huge fashion houses.

People from all over the world come here for a shopping spree. The most disgusting part is that some even bring suitcases when they're shopping. And of course among these people we have our famous badminton player to friend, Andy, who is sponsored by hot shot brands such as Yamaha and gets to shop for crazy discounts at Armani! Show off... Hahaha! (Happy now Andy?)   

Anyway, dad if you are reading this, you can finally stop reminding me about bying new shoes. I'll show them later, haha!



Pictures


Saturday Night Fever
Last night Julie & Marlene's friends from Brussels were here in Oxford, so of course we had to show them a good time. I met up the lovely group in the City to joing them to our favourite pub, Café Terifa. After having some cocktails and listened to great music, we were all ready to rock'n'roll at our final destination, namely Propaganda. The place was filled of dancing indie lovers and with them we partied until the birds started singing their morning song.

I warn sensitive readers and viewers for one of the following pictures below. One thing I can't seem to understand is why people go to a club if they are not going to use the space to dance. I mean, if you are there to hook up:

1. Congratulations, you are officially included in the most pathetic category in the world
2. You should probably not get your hopes up… just saying!
3. If you get lucky, that luck will probably just last for so long… Because the day after you will wake up with a new life mate, who I'd like to call S to the TD, STD!
4. Go away!
5. Go home!  
And why am I so mean? BECAUSE YOU ARE TAKING UP THE ROOM OF THE DANCE FLOOR!!! Just think about all the party animals you could have fed with joy if that little space of the dance floor wasn't occupied by two snogging drunk monkeys!
 And that's how Begonia C's it!

No matter where you are, no matter who you are - you will be exposed! Next time you want to eat someone else's face, you better do it at home. For this is MY dance floor.



Oh, heaven is that a stealth bum? Well goodness precious me, I might just think it is! Well done Julie Van Der Linden!
"I swear to you, that's Neville Longbottom!"
Last night I and my friends went to see a play that some Oxford students had put up. It was quite good actually. It was supposed to be a comedy, but I don't think that a lot of people understood that really. I was afraid of laughing sometimes (even though it was funny), because I didn't know if it really was meant to be funny or not… and also because I know myself good enough to know that once I start laughing there's no return. I thought I would have destroyed the whole play. But now when I think about it I would actually have contributed to the play. Haha, it was not until we had left the theatre that one of my friends said "Did any of you get the funny part?" and I burst out in laughter while trying to ask "Was it a comedy?!".
Anyway, after the play went to The Grand Café at High Street to have some cocktails. Guess who we saw there, or should I say "think we saw there"? Neville Longbottom! Hahaha, the funny thing wasn't that we were obsessed with the idea of that he was hanging out here in Oxford, it was that we couldn't figure out IF it was him and that we actually were bothering trying to know. Haha, well we had a really great laugh. So either way, we have Neville to thank for that. Cheers man!    



Hahahaha, not the best picture of our little cocktail night... But the funniest... and only!
Wednesday's Pub Crawl
Last Wednesday I went on a pub crawl with everyone's favourite guy Damian, my classmates and 63 other guys from school. I had an amazing night with a lot of laughing and funny memories.
Before meeting everyone at Café Terifa, Marlene, Anne and I had some dinner at Atomic Burger. I had the Dead Elvis burger with sci-fi fries and Godzilla souse, and oh my that souse killed me. At first it was just good and really hot, just the way I like it. But after having some fuzzy drinks the hotness spread all over my mouth and all the way down to my stomach. No joking, my insides were on fire!  



With Anne and Marlene at Atomic Burger!


Can you find Dead Elvis?


Anne was such a bad ass. She chose Johnny Cash. Can you guess why they call it the ring of fire? Because you're ass will literally be on fire after you've eaten this, haha! It's so spicy!


Dead Elvis!!!


My sweet Dutch pervert at Café Terifa!


My Cosmo loving lovelies, Julie and Anne!


And Paola was the Party Girl of the night, since she was turning 20!!


Stealth Bumming at Kas Bar!


The Wheatsheaf? I can't seem to ever remember the difference between Wheatsheaf and The Chequers... Anyway, there's no point of even mentioning their names if I can't put the name on the right place, haha!


The restricted area at Purple Turtle!


And no, I'm not stealth bumming a pregnant irresponsible woman who's drinking and smoking in the same time. That's just my non-pregnant friend Anne, haha! The scarf sure makes you a big confused.
My food filled day
Today I went to have some lunch at Starbucks with my German speaking lovelies, Lis & Madie. I got to experience my new favourite hot drink, hot soymilk with caramel. Yummie!
After school I went to meet up some friends at At Thai to have some delicious Thai food. I ate Pad Thai and Satey. Haha, this was clearly a food filled day of its very best kind!

Oh, and I'm having ice cream as desert right now in case you're wondering, haha!


Last Friday Night...
… I was with some friends at Free House and later on at Copa as well! Here are some pictures.


A Movie Script Ending
Oh, I love Death Cab for Cutie! This was the last song I heard of them today, so thereby you've got the headline. 

I'm going to be honest with you and tell you that I have done nothing but reading and writing today. I written so much now, that I can't stop. But I know that if I don't stop, I won't be able to wake up tomorrow morning. So, I hereby wish you all a good night! ♥
...
Ask me if I have done anything worthy today! Or in second thought, don't – because I haven't done anything special what so ever. When I got back from school I made myself some soup, watched the last episode of Gossip Girl, got heartbroken for a moment or two, and now I'm feeling like cheerio while watching Glee and eating fruit! Haha, see you guys later!



Pic by Marlene
When they smashed my heart into smithereens I'd be a bright red rose come bursting the concrete
Sunday with my one and only favourite roommate
Okay, moving on to happier things! Because Sunday's with my beautiful roommate is what I live for, we went to The Thai Orchid to have some Thai buffet for lunch. WOW! It was so good. I would recommend everyone to go there some time and just eat, eat and eat some more! We went a bit nuts when we saw the desert table, haha!

Later on we went for a shoe hunt, since it has started snowing now! I think I'll swing by London to buy myself a pair of bad ass Dr Martens.


Emo
Last week I got an assignment to take photos of different faces of emotions such as happiness, sadness, sorrow, anger, disgust and fear. I thought I could show you some of these photos!

So here comes some pictures of sadness and sorrow:




And here comes some picture of happiness:


This calls for a FML moment
I had my roommate fix my hair and make up and was just about to leave my house to meet my dear friends at The Turf Tavern. Well guess what? I had to push my door open, because apparently we had been snowed in! My first thought was "What the F***?! When the hell did this happen? The sun was shining and the birds were singing in the trees just two hours ago… And now it's Ice age?" When I finally got out of the house I still had five minutes to catch the bus. While waiting on the bus I realised it was taking a lot longer than usual. But I was determined to go out with my friends and sing some Irish pub songs that I don't know the lyrics to (basically I would just say Arrh, do noises and pretend to know every single word of the songs) Finally, after 10 minutes I saw the bus coming, but I'm telling you… A snail would have got me to the City Centre faster than that bus. No, really! Do you want to know why? Not just because it was slower than my grandpa (who by the way is in a much better place now aka dead, may he rest in peace), but because the bus couldn't drive up the hill. Yes, dear readers, we were stuck!
After that I had been waiting for maybe 10 minutes in that bus, I realised it was time for me to take action, do something about the situation. As the hero that I am… I got the hell out of the bus and started walking home, leaving the rest of the people stuck in that bus (moahaha… Okay, so I offered to call a cab for them)! Suddenly I thought to myself that we might actually get snowed in for days if it continues to snow like this. Therefore I fought my way through the snow to the nearest grocery shop to buy "in case of emergency" food (snacks, which for that matter had a special offer today: "By one, get one for free", hallelujah!)  
For those of you who wonders about what happened to that bus, it's still outside my house, fighting it's engines as much as "enginely" possible to move up the hill. They should have gone with my plan and take the cab, but no!

Here are some pictures of the great day I had. I'm not being sarcasting now, my DAY was greatfun but my night... Do I even have to write it? I didn't thinks so either! The pictures will go from great times to not so great times, enjoy!



I went to George & Davi's on Little Clarendon street with my roommate.



We had a Brownie Sunae with home made organic pistachio ice-cream!




We had a little 50's moment at Krispy Kream with Andy and Tony!



I was livid! The bus never showed up and it was cold as hell! Well... actually it was nothing comparing to Sweden, and absolutely NOTHING comparing to Siberia so... I guess it was pretty hot outside! Or not...



I got a bit scared while walking back home from the grocery shop! It felt like 28 days later.

But then I heard music coming from a big house party!
And I'm back again
I recently got back from the university where I ate some lunch with my beautiful friends Julie and Marlene. We were still hung up on the debate we had in class. It is a very sensitive topic for some of us and things get a bit steamy (as in a bad kind of steaminess. Think of hell boiling of rage! I certainly don't mean McSteamy, haha) when we talk about racism.

Anyway, it's Friday, the sun is shining, the birds are singing for me and I'm going to have a great weekend with my friends. ♥
Did you know that…? Fun facts about Sweden
1. Jake Gyllenhaag has got Swedish origins?
2. Lady GaGa love's Swedes?
3. Ana Johnsson (a Swedish singer) sang the theme song of the first Spider man movie?
4. Tiger Woods ex wife, Elin Nordegren, is from Sweden or should we say that Tiger Woods is Elin's ex husband?
5. The coca-cola bottle was designed by the Swede Andres Samuelsson?
6. The strongest man in the world comes from Sweden?
7. The dynamite was invented by the Swedish scientist Alfred Nobel?
8. Swedes are known for their Innovations?
Swedish Inventions include:
- The perfected the design of the zipper (Gideon Sundbäck).
– The marine propeller (John Ericsson).
– The refrigerator (Carl Munters and Baltzar von Platen).
– The computer mouse (Håkan Lans).
– The pace-maker (Rune Elmqvist).


9. … Do I even have to mention that Sony Ericsson originally is a Swedish brand? Probably not… And yes, Volvo and Saab are Swedish brands as well!
10. All the world's flowers are Swedish? Yep, since our botanist Carl Von Linné named them all it's our flowers that we kindly share with the rest of the world!
11. The strongest girl in the world is from Sweden? That's right! It's Pippi Longstocking!
12. Sweden exports stars like the mob exports drugs and hides bodies in the sea? That's why Hollywood calls us the Swedish Mafia!
13. The favorite food in Sweden is usually meatballs with potatoes and lingonberry sauce? Swedish pancakes are also a favorite!

14. Sweden has produced many famous musicians and musical groups over the years? ABBA, The Hives, Europe, The Sounds, Millencollin, The Cardigans, Kent, Lykke Li, Red One, and Robyn to name a few…
15. Swedes love to Shop? IKEA and H&M are both modern Swedish retail shops.

16. Sweden is the land of the Midnight Sun? Yep, it sounds strange but, every year Swedes celebrate Midsummer (Midsommar) on the twenty-third of June. On this longest day, in many parts of Sweden the sun never sets. That makes it impossible for Vampires to come out (unless it's the party vampires from Twilight who glitters like discoballs in the sun or the ones from Vampire Diary who's got magic accessories to protect them from the sun. We human settle to just use some sun lotion)

17. The modern welfare system was developed in Sweden and implemented by our former prime minister, Olof Palme?
You can all thank us later – we know we rock!
One last fact that maybe isn't that great (or… it's kind of a huge deal actually) Sweden was the first nation to research racial biology… So basically WW II is our fault! Sorry, guys! Our bad! But we still remained neutral… Right? (or did we?) Meatballs anyone?! No? I'm just gonna sign out now...
An International Day
We had a little International Day in school today. I and two other Swedes got together and put up an entire table with goodies such as muffins, swizz roles, Swedish "saft" (juice) and we also had some of ABBA's music in the background. We even had some games and fun facts about our nation. Before school we had been putting a collage together. I would like to call it "And that's why they call us the Swedish Mafia" or "Sweden is the bomb!"
If you know a little history about Sweden and look deep enough into the bigger picture, you will see that the collage actually has a much greater meaning and purpose. Not that any of my colleagues was aware of it while we were putting the pictures together. It was all in my brainstorm from the night before… Haha!   



We played "Place the tail on the pig!"



Our snack table! We also played "Guess how many sweets there is in this jar and you might win it", hahaha! That's a too long name for a game.


Freedom of speech is nothing we shall ever speak of
There is no such thing as freedom of speech in this world.